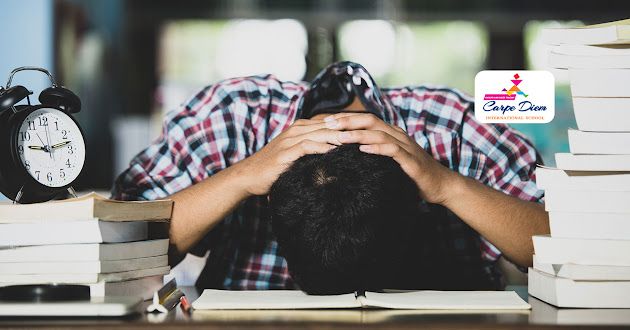 20 Jan

5 Tips To Remain Positive In Stressful Situations

The onset of the covid outbreak and its prevalence has led to the occurrence of stress, anxiety, and panic attacks. It might feel impossible to be calm and exhibit a positive attitude. However, as the world around you are changing, you need to keep your worries at bay. The ability to stay positive amidst such trying times is a testament to one's character. At Carpe Diem International School, the Best Rajpura CBSE School, we motivate students to be more positive.

How to remain positive in stressful situations?

There are various ways you can remain positive in stressful

scenarios. Carpe Diem International School, the Best School in Rajpura, cultivates a positive attitude in students. Take

a look at some tips listed below –

Be in the present

One of the easiest ways to remain positive is to be present at the moment. You need to make efforts to stop yourself from thinking about what happened in the past or what might happen in the future. Instead, focus on the present day and make plans.

Start the day in a good way

The best way to kickstart a good day is to do something that has a positive impact on your mood. For instance, if you love listening to music, do that. If you prefer working out or meditation, opt for that to start the day.

Stop yourself at times

Spiraling down the rabbit hole is something all of us are accused of doing at times. However, there are times when you feel that you are overthinking too much, stop yourself. There is no need to over-exert or think

about things you have no control over.

Start exercising

Staying positive is not possible if you are physically unwell. For that, you need to remain fit and healthy. Moreover, it is an excellent way to beat stress.

Do good for others

Helping others or doing good for others has a magical effect on your mood. Practice the act of kindness to adopt a positive attitude in life. Helping others in need is a good act.

You can follow some tips to maintain a positive attitude amidst stressful situations. It is important to understand that positive thinking will have a good impact on your physical health and mental well-being. Moreover, with a positive attitude, beating stress is easy! At Carpe Diem International School, the Best Primary School in Rajpura, we encourage students to remain positive.